Summer essentials: 4 cute white dresses
Although this summer season might be quite different than the ones we are used to, there is no reason why the outfits and fashion for that matter have to suffer. As an online fashion store, we at Finest Vibes are always trying to bring the biggest and latest fashion trends closer to you. One summer essential that never goes out of style is the white dress.
White is a color that is perfect for summer. It is clean, crisp, and fresh, goes with all skin tones, and is appropriate for all occasions. The summer dresses are a quick and easy solution for all those of you who need a style change. Here are the top 4 cute white summer dresses that you can find on the Finest Vibes
The white lace skater dress is a combination of elegance and classic. Its beauty comes from the fabulous design of the top and the back. The front is uniquely designed, covered in discreet lace, that goes back, exposing the shoulders and leaving the skin bare. The length reaches over the knees, with an A-line flowy skirt.
Off-The-Shoulder Maxi dress
The chicness of a white maxi dress is known as an irreplaceable thing when it comes to elegance. Excellent for official occasions, weddings and receptions, the Off-the-shoulder maxi white dress will transform you and make you feel like royalty. Following the silhouette, it is tight, with a high side slit. The off-the-shoulder top is fabulous and classic.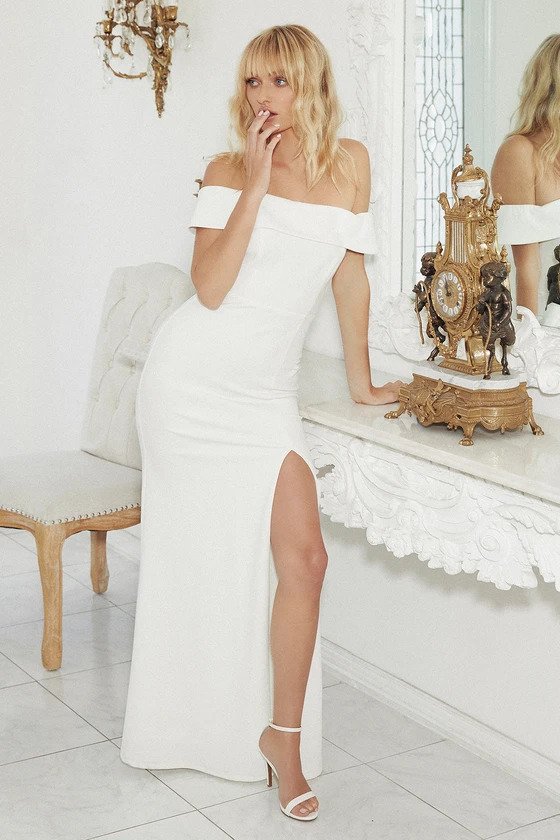 White bodycon dress
The bodycon dresses emerged on the fashion market inspired by the shapewear. Many celebrities were the first to try them out and flaunt their figure and curves. The white option of a bodycon dress is a total summer hit. The strapless top accents the shoulders, and the tightness of the dress accents and entire body line.
The exquisite design of this dress top the look of any elegant short dress. The subtle and elegant peats come on the top part, opening to the front and diving the dress unique visual appearance. The length is short and the straps are thin but provide excellent support. This is a dress that turns heads!
If your summer closet was lacking white dresses, our suggestion will have you covered, and above all, make you look trendy, stylish, and fashionable!